Photo Gallery: Boston Bruins Alumni Game
David Creed •
The Nantucket Ice Rink celebrated their 20th anniversary on Wednesday and invited Boston Bruins Alumni to the party. There was a Boston Bruins Alumni game consisting of former players and members of the Nantucket community coming together to form two teams.
One notable participant in the game was Nantucket boys varsity hockey goaltender Griffin Starr, the only high school player, boy or girl, to dress for the game. In the picture above he is posing for a photo with his coach for the day, who is also former Boston Bruin and current Bruins color commentator for NESN Andy Brickley.
Former Bruins such as Brickley and former Bruins tough guy Jay Miller were the coaches while former Bruins including Bob Beers, who is now the Bruins color commentator for 98.5 The Sports Hub, Andrew Raycroft (NESN analyst), and Boston Bruins Foundation Executive Director Bob Sweeney laced up the skates.
The Current was in attendance to take some photos throughout the game and compiled some for a photo gallery below.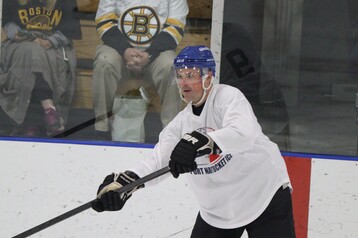 Photography by David Creed
Current Sports