Season Preview: Girls Soccer Building On Last Season's Momentum
David Creed •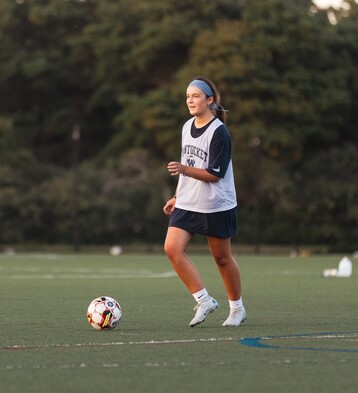 The Nantucket varsity girls soccer team enjoyed plenty of success last year with new head coach Doug LeBrecht at the helm. They finished the season 11-8-1 and won a state tournament game. LeBrecht said he is excited to see what the new year will bring and feels much more comfortable entering his second season.
"Yeah I definitely feel a lot more comfortable. I was able to be a bit more aggressive because we all know each other and so I don't really need to walk on eggshells anymore – not that I really did," LeBrecht said. "I can be more strict, more stern. We've been doing a lot more fitness this year – a couple of miles every morning. I've been doing time trials. It has just been a much better preseason and we have had a lot better attendance this year compared to last year."
The Whalers had 16 players last year, 10 of which were freshman, and this fall they will have 17 players with only two seniors to replace from last year's team.
Adney Brannigan will pace the Whaler's attack again this year. The junior was Nantucket's leading scorer last year with 34 goals as a sophomore and is hoping to build on that success in her junior season.
"Adney has been killing it," LeBrecht said. "She had those 34 goals last year and she gave me a number she is aiming for this year. But what is cool is we had a meet and greet the other day about our goals and expectations and she never brought that up herself. She just brought up team building. She has really matured in that way. She's unique."
Brannigan, along with sophomores Chelsea Gross and Myah Johnson, will be accompany Brannigan on the attack. Senior Claire Misurelli and sophomore Dylan Damian will be in the middle back. LeBrecht said junior Gianna Quinn will also be heavily involved and a part of the core six or seven players that have been playing with one another for years.
Misurelli, Brannigan, and Gross will be the three captains. LeBrecht said having one senior, one junior, and one sophomore will allow them to begin a steady leadership trend that enables them to have two returning captains next season. He said moving forward he hopes to add an incoming freshman each year to ensure that each team has at least two proven captains to begin the season.
As for the team's goalie, LeBrecht said they will need to find a way to replace Ella Scott, who was the Whaler's goalie last year, but feels comfortable with some of his options available to him this year.
The Whalers scrimmaged Carver High School on the road Thursday afternoon - winning that match 3-2. Now all eyes are on Nantucket's first regular season game, which will be on Tuesday, September 5 when they host the Barnstable Red Hawks at 4 p.m. You can view the Whaler's full regular season schedule by clicking here.
Current Sports