Swim Across America Nantucket Raises $525,000 For NCH, Cancer Treatment
David Creed •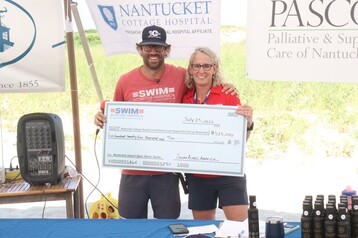 Swim Across America Nantucket raised $525,000 on Saturday, smashing their initial goal of $500,000. SAA is a nonprofit dedicated to raising money and awareness for cancer research, prevention, and treatment.
It was a successful 10th annual swim with a large turnout. These funds, which are expected to be even higher than 525K when the official count is complete, will go towards the Nantucket Cottage Hospital and Palliative and Supportive Care of Nantucket (PASCON), so cancer patients can be treated on island.
The event first came to Nantucket ten years ago for a 25th anniversary swim, which SAA Nantucket directors Jill Roethke and Jim Pignato participated in. In 2013, Pignato and Roethke made the decision to keep SAA on the island. They have been the catalysts for this annual event that has raised over $3.4 million for beneficiaries such as NCH and PASCON.
Both Roethke and Pignato are motivated to raise funds for cancer after cancer struck people close to their hearts. Roethke's husband, Steve, had just been diagnosed with cancer in 2012 just before the SAA swim. Pignato's mother was a cancer survivor, but his father was in the midst of his own battle with colon cancer. He passed away in 2013.
If you missed it, you can read the full story on Roethke, Pignato, and SAA here.

Below are some photos from Saturday's event.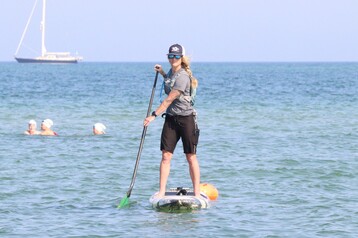 Photography by David Creed
Current Sports