The Absolute Wins 13th Bluefin Blast Tuna Fishing Tournament
Jason Graziadei •
The 13th annual Nantucket Bluefin Blast tuna fishing tournament was held on Sunday, with local anglers and boats from around the region squaring off for fun, a cash-prize, and of course, bragging rights.
Local boat Absolute Sport Fishing, captained by Brian Borgeson, took home the top prize on Sunday, finishing first with 14 tunas. The Hammerhead, of Osterville, took second place, and Nantucket's Starrfish Charters claimed third place.
"We decided to gamble and go north instead of fishing with the fleet," Borgeson told the Current. "My first mate had let me know they were there, we just had to find 'em. It took a while but when we did we had the whole ocean to ourselves. We had many multiple hookups in between even more grass checks as the fish were in the sargassum feeding on small sand eels and butter fish. That same weed clogged my port engine and it overheated so in between catching our fish we had burning antifreeze, billowing smoke out of our open engine box! We caught our final seven fish on one engine and limped home at eight knots. Our team did awesome everyone working the cockpit and Lane Corbett on the camera!"
The tournament is trolling-only, and primarily catch-and-release as it's the number of fish caught between 6 a.m. and 3 p.m. that determines the winner. And some boats that participated returned Sunday afternoon to the Nantucket Angler's Club to weigh-in one of their catch that were over the tournament minimum length. Crowds gathered at the dock to watch some of the weigh-ins.
Tournament Director Jonas Baker has organized the tournament for the past 13 years along with a committee, with the goal "to give fishermen a professional and fun tournament for anglers and guests alike."
"We had perfect weather," Baker said. "We are very fortunate. Within the last 13 tournaments, at least two were canceled due to hurricanes. We always seem to have inclement weather for this event but we had beautiful weather this year. We had 37 boats participate and 250 bluefins were hooked."
Baker added that he was thankful for the local support from island venders and purveyors, along with the tournament's sponsors, mentioning the Nantucket Boat Basin and Slip 14 in particular. While the tournament was cut back from two days to just one this year, Baker said he and the participants took the change in stride.
"We went to one day because these are extremely regulated fish," Baker said. "They have restricted fishing days and Saturday is now one of those days. Also, there are so many fish around right now that it is a lot to fish for two days so this year I said let's turn it into one day."
Baker added that he was encouraged by what he was seeing offshore in terms of the population of mature bluefin tunas. The abundance of tuna, he said, was the result of strict management to keep it the fisher sustainable.
"Something I took away from the tournament this year is that because this fishery is managed so much, it is becoming a sustainable fishery. Bluefin have been on the endangered species list but now it has become a sustainable fishery (on Nantucket). It is nice to see that it is all coming back."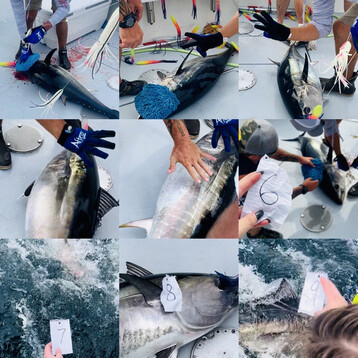 Current Sports