Volleyball Begins Season 1-1 After Tri-Match
David Creed •
The Whaler volleyball team kicked off the 2023 fall season with their first ever tri-match at Nantucket High School on Sunday. The two visiting schools were the Frontier Regional High School Red Hawks and the Nauset Warriors.
Nantucket lost to the defending Div. 5 state champion Red Hawks in their first match but later beat the Warriors in their second match.
"Overall that's a win," Nantucket head coach Andrew Viselli said of his team's performance on Sunday. "Frontier is not the team they always are but they are still the same program and so to be able to see right away in the first match of the year where we are and what we can do against Frontier, who is well coached and plays controlled volleyball, it is super good for us."
Viselli took note of the net violations that plagued his team in the match against Frontier, gifting the Red Hawks some costly points. But he was happy to see his team improve in that area once they played Nauset later on in the day.

"I'm not complaining about (net violations) because the kids were being active, right? Passing was subpar. communication was subpar. But they worked on it," Viselli said. "Then it was in this (Nauset) match where you saw they are working on it because Alice (O'Banion), who had like 20,000 net violations (in game one) only had two (against Nauset). So those are the improvements we're looking for every time out. How do we improve from what we just did? There's a lot of improvement. They might not think so but I'll tell you what, I'm not thinking about September 11. I'm thinking about November 11 and what that looks like and how that happens.
Viselli said the match against Frontier showed his team they need to work on handling service pressure, something they struggled with in large spurts for most of the match against the Red Hawks.
Senior captain Chloe Marrero had 29 kills combined in both games - pacing the Whaler's attack.
Viselli said he enjoyed the experience of having a tri-match on Nantucket and would welcome the opportunity again if it ever presents itself.

"It's awesome because it's a full day of volleyball," head coach Andrew Viselli said. "Really loved it and love the atmosphere of it. This is college volleyball. This is Saturday on a college campus. There is just volleyball all day long. I love that, and I love that the girls get used to that, get to see that, and can be apart of it."

Sets for both games below.

Vs. Frontier (3-0 loss):

Set One - 13-25

Set Two - 23-25

Set Three - 15-25

Vs. Nauset (3-0 win):

Set One - 25-13

Set Two - 25-10

Set Three - 25-16

The Whalers next game will be Wednesday, September 6 on the road against St. John Paul II High School.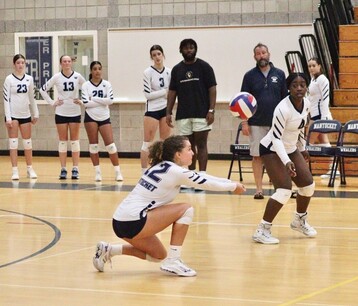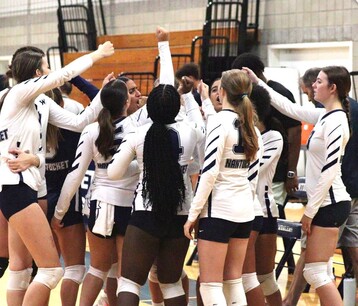 Current Sports