Whaler Sports Roundup: Boys Soccer, Field Hockey Seasons Come To An End
David Creed •
This Whaler Sports Roundup includes updates on the boys soccer team and the field hockey team. Both teams were eliminated from state tournament play - leaving football as the only active team remaining. They close out consolation play on Thursday.
Boys Soccer Loses In Penalty Kicks To Whitinsville Christian
The Whaler boys soccer team's season came to an end Monday afternoon in the Round of 32 by way of penalty kicks. Nantucket, ranked #17 in the MIAA Div. 4 state tournament, lost to #16 Whitinsville Christian 3-2.

Whaler senior striker Edin Vasquez scored both of Nantucket's goals - capping off a fantastic senior year where he made the move to striker after spending his junior season as the team's keeper last year.
The Whalers ended their season with an 11-5-3 record, which was a drastic improvement from last year's record of 3-12-3.
Nantucket graduates five seniors: Rodane Watson (captain), Kinnick King, Christopher Castro-Perez, Edin Vasquez, and Aiden Congdon.
Below are some photos from the game taken by Current photographer Chris Tran.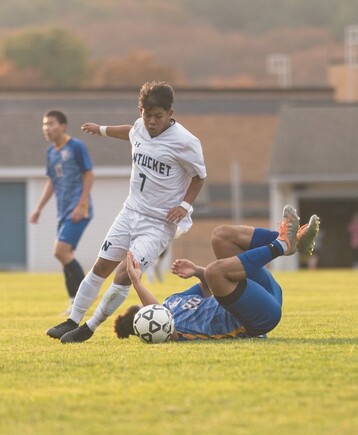 Field Hockey Loses To Monomoy In Round Of 16
The Whaler field hockey team lost to the Monomoy Sharks on the road Tuesday afternoon 4-0 in the MIAA Div. 4 state tournament's Round of 16 - ending Nantucket's season.
The Whalers finished the year with a 10-6-3 record and will be graduating four seniors: Caroline Allen (captain), Aubrey Connors, Lily Remick, and Ali Bamber.
After the Whaler's 6-0 win over Martha's Vineyard on October 28, Nantucket co-head coach Dan Weber spoke glowingly about his seniors. He said the impact those four had on the program "will be felt for years to come" and believes that impact has already been on display through the team's gradual improvement year after year.
"What they've done to raise the level of play in this program, I can't overstate it. It's just the commitment and the buy-in and the willingness to work hard," Weber said. "They'll leave behind girls who will know that the people before them worked hard to get us to this point. They're all major contributors and they're good people, which is the most important thing. They're just great girls. We're going to miss them big time. I couldn't talk too much in there because I'm not as big of a crier as Elizabeth (Weber, co-head coach) but I'd probably start getting some tears in there eventually if I talked too long. I'm hoping we got at least one more (game) on this field for them when this whole (season) is done."

SCHEDULE AHEAD: 
Wednesday, November 8:
No games scheduled.
Thursday, November 9:

The Whaler football team is the last active team remaining this fall and will close out their season, as well as the Nantucket High School's fall season when they host Joseph Case High School at 5 p.m. on Thursday.
For more sports content, follow our Current Sports Instagram page here. You can follow CurrentSports photographer Chris Tran here.
Current Sports