Whaler Sports Roundup - October 18 & 19, 2023
David Creed •
It was a busy couple of days for Nantucket High School sports teams. The football team earned their second consecutive win Thursday evening and honored their late teammate Baxter Waldman, the field hockey team won their game on Wednesday, the volleyball team and boys soccer team won their matches on Thursday, the golf team lost a tight match on Wednesday, and the girls soccer team lost at home on Thursday.
Hanlon's Three Touchdowns Propel Nantucket To Win Over Monomoy
After a frustrating 0-3 start to the season, the Whaler football team is showing signs of steady improvement in recent weeks and after beating the Monomoy Sharks 28-12 on Thursday – boast a 3-4 record and are winners of two straight games.
"That was the first time where it was, like I have been saying, connecting the dots. O-line had no sacks, Brock (Beamish, sophomore quarterback) was making the right reads, routes were good," head coach Tim Psaradelis said. "All of those pieces are starting to come together, which is huge."
The Whalers were led by sophomore wide receiver Arann Hanlon, who scored three touchdowns on the day and now has six touchdowns this season. Hanlon said he felt his team brought focus and energy to every practice this week and that it showed in Thursday's game.
"Our offense finally clicked, and we were able to move the ball like never before," Hanlon said. "Our defense set the tone as usual and we had great communications like we've practiced all week, which led us to stop majority of Monomoy's passes."
The scoring began when Beamish connected with Hanlon on a 25-yard pass to bring Nantucket just outside the red zone area. A couple plays later, Beamish found senior captain Carlos Aguilar on an out route and Aguilar proceeded to break a tackle and sprint to the end zone for a 21-yard score - giving his team a 6-0 lead with 6:08 remaining in the opening quarter. The point after attempt was blocked by Monomoy.
Monomoy answered with a strong offensive drive of their own and tied the game 6-6. Then with 3:17 left in the first half, Nantucket scored for a second time with Beamish tossing one up into the endzone with three defenders tackling him. The pass reached Hanlon, who was double covered on the play, and Hanlon snagged it out of the air to make the impressive play and give Nantucket a 14-6 lead after a successful two-point conversion. That score would stand going into halftime.
"They have been doing that since they were young," Psaradelis said of Beamish and Hanlon connecting for three touchdowns on Thursday. "It has been a long time coming, but they're just playing on a different level right now. When Brock is on, it is just crazy. Then Arann is just a freak athlete. I'm like 'how do you do that.' He had three touchdowns today, right? That's just the way he is. He is just nonstop – same thing (for him) on defense."
With 6:33 to go in the third quarter, Monomoy was on the Whaler five-yard line in a 4th and 2 situation. The Sharks boldly decided to go for it and converted on a five-yard touchdown pass to make it 14-12. The two-point conversion was no good – keeping Nantucket in the lead by a slim margin.
But the Whalers continued to produce offensively. With the help of three turnovers by their defense, the offense had solid field position throughout the game. Six seconds into the final quarter, it was Hanlon once again scoring on a 10-yard run on a wide receiver sweep to make it a 20-12 game.
"Arann Hanlon is just a gamer," Psaradelis said. "He just has that even keel, nothing rattles him. He just has so much experience playing competitive sports and it shows."
With Monomoy driving towards the end of the game, the Whalers forced another turnover and gave their offense solid field position. With 1:52 to go on the game, Beamish connected with Hanlon for an 18-yard touchdown to make it a 28-12 game – a score that would stand as the clock hit zero.
"Now that that game is behind us, we can bring all our focus to the Island Cup game next Saturday," Hanlon said.
Nantucket will host Martha's Vineyard in the Island Cup next Saturday, October 28 at 3:30 p.m.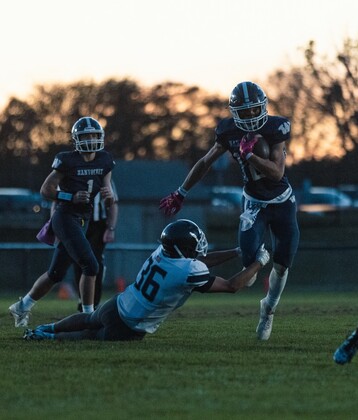 Football Team Honors Their Late Teammate Baxter Waldman
The football team also held a special senior recognition ceremony before the game on Thursday for their late teammate, Baxter Waldman, who tragically lost his life last year in a motorcycle accident.
Baxter was a member of the Whaler football program and would have been a senior this year. His Mom, Elise Norton, was walked out onto the field alongside Nantucket's three senior players, presented flowers by head coach Tim Psaradelis, and shared an embrace with each of the players before walking off the field.

Some photos, taken by David Creed, from the ceremony are below.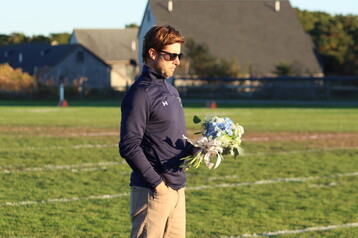 Field Hockey Shuts Out Sturgis East
The field hockey team improved their record to 6-4-3 this season following a 3-0 victory at home against the Sturgis East Storm Wednesday afternoon.
"I think from start to finish we played really well," head coach Dan Weber said. "They have a really good goalie. She's athletic and she moves around. We need to do a better job of figuring out a way to get around that because we had the ball in the offensive zone so much, but we did nice job. I think particularly in the second half our passing was really, really good. I thought we were super dangerous in the second half. It was a good three goal win. That is what you got to do."
Junior Maddie Lombardi scored her first career varsity goal in this game. Weber was complimentary of her play while expressing his satisfaction to see her rewarded on the scoresheet.
"She's been penned in at the center mid spot since freshman year pretty much and she does a lot of things that don't go on the stat sheet for us," Weber said. "She plays a ton of defense. She transitions the ball from the center of the field to the outside for us where we build our attack from. She does a great job at the top of the circle getting it back in. You don't see a ton of that on the stat sheet, but she has her fair share of assists – but it is good to see one go in the back of the net for her."
Nantucket's next game will be Friday, October 20 when they host the Falmouth Clippers at 3:30 p.m.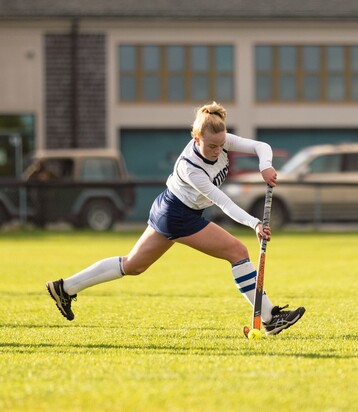 Chloe Marrero Earns 750th Kill In Win Over Sturgis East
The volleyball team hosted the Sturgis East Storm on Thursday – beating them handily in straight sets 3-0.

Senior captain Chloe Marrero earned her 750th career kill during the match. It is the second major milestone reached by a Whaler player this week after junior captain Vicky Todorova recorded her 1000th career dig during Monday's matchup with Dennis-Yarmouth.
The sets were as followed:

Set One: 25-12 Nantucket
Set Two: 25-15 Nantucket
Set Three: 25-22 Nantucket
The victory was Nantucket's 10th of the season and now with a record of 10-5 with four games to go, the Whalers have officially clinched a spot in the MIAA Div. 4 state tournament – not that it was ever much of a question whether they would qualify given Nantucket is currently #9 in the MIAA's latest Div. 4 rankings.
The Whalers next match will be one of their biggest challenges to date this season. They will be traveling to Duxbury to take on the Dragons at 12:30 p.m. on Saturday, October 21. Duxbury is currently 13-1 and ranked #5 in the Div. 2 bracket.

Boys Soccer Beats Monomoy For Important League Win
The Whaler boys soccer team felt like they let one slip away when they tied the Monomoy Sharks 3-3 on October 3 when Monomoy visited the island. Since that time, Nantucket had rattled off three straight wins over St. John Paul II, Dennis-Yarmouth, and Sturgis West 2-0, 2-1, and 7-2 respectively.
Nantucket had a rematch with Monomoy on Tuesday on the road and earned the victory in a hard-fought battle to keep their hopes of winning the league title alive. The Whalers won 2-1 behind two goals off the foot of freshman Calvin Guevara, who has been red-hot as of late as he continues to develop his game. Guevara's first goal was at the 60th minute mark with an assist from junior Jose Diaz, who is normally the one scoring for Nantucket but found himself as a playmaker on this play. The second goal was five minutes later on a penalty kick.
Sophomore Alex Ivilov played 80 minutes in net for Nantucket and made four saves – continuing his strong season as the team's keeper.
The Whalers are now 8-3-3 and will hope to see their spot in the Div. 4 power rankings rise on Friday when the latest version is released at 11 a.m. on October 20. Nantucket is currently #22 despite their impressive record. Monomoy was #17 in the latest Div. 4 bracket.
Nantucket will attempt to improve their record to 9-3-3 and their win streak to five games when they travel to Falmouth Academy on Saturday, October 21 for a 12 p.m. matchup.
Golf Loses To Barnstable
The Whaler golf team had an impressive season, but on Wednesday they lost a close matchup to the Barnstable Red Hawks 251-247 to end the regular season with an 11-4 record.
Nantucket had another close match with the Red Hawks on the island earlier this year on Sept. 11 – losing that one as well 249-239.
The scores were as followed:

Braden Knapp – 39
Henry Kathawala – 40
Cole Chambers – 41
Colby O'Keefe – 42
Ryan Davis – 44
Paddy Carroll – 45
Michael Culkins – 49
Nantucket will now compete in tournament play and send six of their golfers to compete against others from across the state. We will provide updates on how the Whalers do in postseason play so stay tuned.
Girls Soccer Shutout By Monomoy
The girls soccer team lost to Monomoy 3-0 on Thursday – dropping their record to 6-8 this season. Nantucket had several high-quality chances in the first half, but Monomoy's goalie stood tall and turned each opportunity away.
The Whalers are fighting to maintain their spot in the MIAA's Div. 4 state tournament and have four games remaining on their schedule. Nantucket's next game will be on Saturday, October 21 when they host Falmouth Academy at 1 p.m.
SCHEDULE AHEAD:

Friday, October 20:
The field hockey team will host the Falmouth Clippers at 3:30 p.m.
Saturday, October 21:
The girls soccer team will be at home against Falmouth Academy at 1 p.m.
The boys soccer team will be on the road against Falmouth Academy at 12 p.m.
The field hockey team will be on the road against Medway at 12 p.m.
The volleyball team will be on the road against the Duxbury Dragons at 12:30 p.m.
Sunday, October 22:

No games scheduled.
Updated MIAA state tournament brackets are released on Tuesdays and Fridays at 11 a.m. To view them, click here. For more sports content, follow our Current Sports Instagram page here. You can follow Current Sports photographer Chris Tran here.

Current Sports