Whaler Sports Roundup - October 20 & 21, 2023
David Creed •
This Whaler Sports Roundup includes updates on the field hockey team as they picked up a huge win over one of the top teams in Div. 3 and the volleyball team who, despite picking up a loss, played one of the state's top programs tough as they continue to build momentum with the state tournament approaching.
Field Hockey Stuns Falmouth, Wins Third Straight Game
The Nantucket field hockey team entered Friday's home matchup against the Falmouth Clippers 6-4-3 and as the #15 seed in the MIAA Div. 4 state tournament bracket. They knew entering the final week of the regular season that there was little to no room for error if they wanted to earn a home tournament game in round one.
So as the Clippers came to town on Friday, the Whalers knew a close game or a win could help them move up the standings. For much of the game, it was a scoreless tie. But with about seven minutes remaining in the game, it was junior Suz Peraner scoring the eventual game winning goal on a nifty move in front of the net to lift Nantucket to their most impressive win of the season.
"I thought this was just a true team win from the back of the field to the front of the field to the bench, you could kind of feel a little something going on early on," head coach Dan Weber said.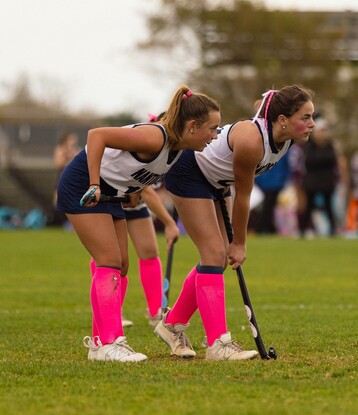 The goal involved three of the Whaler's best players. Peraner has emerged as one of Nantucket's top scoring threats as the season has progressed, but seniors Caroline Allen and Ali Bamber continue to have their fingerprints all over the success of this team and factored into the goal as well.
"Suz has been working really hard on her skill level," head coach Elizabeth Weber said. "That is definitely something in this game that all of our players have been working towards is their ability to possess the ball and maintain possession under pressure and having really strong stick skills. Suz showed that she has been working on that today. She has been working on that shot all season. She scored on it in practice."
"I really thought that everybody was fantastic today," Dan Weber added. "The level of play today was extremely high for us today across the board."
Sophomore goalie Shelbi Harimon was stellar once again in net when called upon. She earned her ninth shutout of the season and has yet to allow a goal in any Nantucket win this year – as the Whalers have outscored their opponents 21-0 in their seven victories.
"Shelbi has been fantastic all year and she makes the big save when you need to make the big save," Dan Weber said. "She doesn't shy away from the moment. She is ready for the ball. She could not see a shot for 15 minutes and she will be ready for the next one that comes. We knew when we scored that goal there that it was going to be an onslaught for the final six minutes or so, but I think our defense and Shelbi were both up to the task."
Nantucket is now 7-4-3 this season. The Clippers, who went into Friday as the #7 team in Div. 3, fell to 9-4-3 on the year. The Whalers have three games remaining this season: Tuesday, October 24 at home against Westport at 4 p.m., Wednesday, October 25 on the road against Dennis-Yarmouth at 3:30 p.m., and Saturday, October 28 at home against Martha's Vineyard at 12:30 p.m.
Volleyball Drops Road Matchup To Duxbury 3-1
The Whaler volleyball team faced arguably their toughest test of the season to date on Saturday when they traveled to Duxbury to take on the 14-1 Dragons – who are currently the #6 seed in the Div. 2 state tournament bracket. Nantucket jumped out to a fast start but ultimately lost the match 3-1.
While Nantucket head coach Andrew Viselli will be the first to tell you he is never fully satisfied with a performance that doesn't end with a win, he said he felt his team played exceptional on Saturday and said it was as strong of a performance as he has seen from his team.
"It was impressive I have got to say to the point where, both of (Duxbury's coaches), both of which are hall of famers, complimented our team. They said we had a great team. Another comment I received is that this might be the best competition we have played all year," Viselli said. "Another comment I heard is how is that team not 15-0. So watching these kids perform with no fear and understanding they can play volleyball too and execute on so many levels, it is great."

"A loss is hard to swallow, and it is even harder to swallow when you leave everything on the court. I think my girls all left something on the court and they know they were so close. They could have had it. It was just really good volleyball. At no point do I think we are losing, and we should have this understanding that we are a really a good team."
Nantucket won the first set 25-23 to put Duxbury in an early hole. The Dragons battled back and won each of the next three sets, but Nantucket made them earn every point. Duxbury won set two and set three 23-25 and then set four 22-25.
Senior captain and outside hitter Chloe Marrero was outstanding per usual, but even more efficient than normal. She finished with 37 kills on 85 swings. That equates to a 43.5 percent kill percentage, which is over four percentage points higher than her season average of 39 percent.
"That's pretty freaking good for volleyball," VIselli said. "37 kills in a match for a four setter is pretty huge. She took a lot of swings. I just told her (Saturday) you just put yourself on the state map. Those two coaches on the other sideline have every say in the world of who is good and who isn't good, and you just showed them what you can do."
Other notable performers included senior setter Yahely Del Rosario Gomez, who had 32 assists as well as junior captain and libero Vicky Todorova, who finished with 45 digs.
Nantucket is now 10-6 this season, and Viselli said if this team wants to make a deep state tournament run it will come down to their ability to fully grasp how capable they are of competing at a high level.
"I said after the game 'Look, those coaches are coming over and saying how good you are, and I am telling you every single day about how good you are and now we are waiting on one group of people to believe they are," Viselli said. "That is where we are right now. They need to believe in themselves and once they do, they're going to be really tough to beat."

The Whalers will be welcoming the Barnstable Red Hawks to the island on Monday, October 23 for a 4 p.m. match. Barnstable beat Nantucket 3-0 early this season with the sets being 25-10, 25-15, and 25-17 Barnstable on September 20. The Red Hawks are currently one of the best teams in the state and are ranked #3 in the MIAA's Div. 1 state tournament bracket.
SCHEDULE AHEAD:
Monday, October 23:
Volleyball hosts Barnstable at 4 p.m.
Tuesday, October 24:
The field hockey team will host Westport at 3:45 p.m.
The girls soccer team will host Falmouth Academy at 4 p.m.
The boys and girls cross country teams will be on the road for a 3:30 p.m. meet against Falmouth Academy.
The boys soccer team will travel to Falmouth Academy for a 4 p.m. game.
Updated MIAA state tournament brackets are released on Tuesdays and Fridays at 11 a.m. To view them, click here. For more sports content, follow our Current Sports Instagram page here. You can follow Current Sports photographer Chris Tran here.
Current Sports