Whaler Sports Roundup – October 23 & 24, 2023
David Creed •
This Whaler Sports Roundup includes updates on the golf team, who clinched a spot in the Div. 3 state tournament after an impressive showing in the south sectional tournament, the girls & boys soccer teams, the field hockey team, and the volleyball team. This roundup also includes information on new trophies to be handed out to the winners of three other Nantucket vs. Martha's Vineyard games taking place over the weekend aside from the annual football game.
Golf Clinches State Tournament Berth
The Whaler golf team had a strong regular season – finishing with an 11-4 record – and they carried the momentum built throughout the year into Monday's south sectional tournament and earned a top three finish to punch their ticket to the Div. 3 state tournament.
"We have such a strong group and we may have come up short a few times this year whether it be the league championship or playing a really good school like Barnstable, but to qualify for this state tournament really puts an exclamation point on the season," head coach Sam Herrick said. "For them to go out and be one of the Top 12 teams in Division Three in the entire state is awesome."
Senior captain Henry Kathawala led the Whalers as he has all season - shooting an 80 (+8), which was tied for the third best score out of over 70 golfers. Kathawala's top eight finish also qualified him for the individual golf state championship, which was something he just barely missed last year. The individual state championship will be determined based on how Kathawala and the other qualifiers perform during the team state championship on Monday.
The rest of the Whaler's scores were as followed:
Braden Knapp – 84 (+12)
Ryan Davis – 88 (+16)
Cole Chambers – 89 (+17)
Paddy Carroll – 91 (+19)
Colby O'Keefe – 94 (+22)
Herrick said he was proud of his team and he felt like they battled through some tough conditions on Monday to earn their place in the state tournament.
"(Monday's) conditions were probably some of the hardest conditions I've seen to date this year on a golf course," Herrick said. "It was mostly because it was just windy and cold. I got to drive the whole entire course and they double cut the greens and they rolled them. It was probably one of the faster greens the kids have played on all year.
"The sleeper for the day honestly was Ryan Davis," Herrick added. "Ryan came out and while it wasn't his ideal score at 88, he came in as our number three guy (on Monday) and it was in really hard conditions."
As for Carroll, Herrick said his mental toughness to bounce back from a tough front nine with an excellent back nine impressed him, the coaching staff, and his teammates. Carroll played a vital role in Nantucket moving on as well. The Whalers were in a three-way tie with Sandwich and Cape Cod Academy. Thanks to Carroll, the Whaler's number five golfer, outplaying the Sandwich and CCA number five golfers, Nantucket was the third team to advance to the state tournament based on the tiebreaker.
"He is just a grinder," Herrick said. "He shot an 11 on a par three on a really difficult hole early on. He was down and frustrated but I was like 'hey man just shake it off its all good.' Then he goes out and after shooting a 50 on the front nine he shoots a 39 on the back nine. So for him to overcome that adversity and not give up on himself earned high praise from all of the coaches."
Nantucket was allowed to send six golfers on Monday and will be required to send the same six next week. The top four scores are chosen, added up, and compared with the scores of the other teams. The state championship will be played in Sterling, Massachusetts.

"This is it. After Monday it is over," Herrick said. "These guys don't want the season to end just as much as I don't want the season to end, and so we're going to go out there and make some noise on Monday and represent the best way we can to finish this thing on a high note."
Girls Soccer Beats Falmouth Academy 6-0
The Nantucket girls soccer team improved to 7-8 on the season following a 6-0 victory at home over Falmouth Academy Tuesday afternoon. Head coach Doug LeBrecht said he was very happy with the overall performance, in particularly with the offensive production after his team failed to score in their last game (3-0 loss to Monomoy).
"We had a couple of different scorers which was nice," he said. "We were trying to do some new things defensively in the back, and they worked."
The goal scorers were junior captain Adney Brannigan (two goals), sophomore Gabby Nikolova, sophomore Myah Johnson, sophomore Chelsea Gross, and sophomore Emery Bouchard.
LeBrecht said he was also impressed with sophomore defender Fiona Keltz.
"Fiona did really, really well (on Tuesday)," he said. "She played that defensive back controller and we could hear her voice. When we had those three quick goals (in the second half), that was her turn at that time to run the whole defense and you could hear her lining everybody up. They were winning the ball, pushing it forward, and we had three quick goals as a result of that. She really stood out."
Nantucket honored their two seniors – Claire Misurelli (captain) and Cydney Mosscrop – after the game. LeBrecht said those two have established a culture that will be felt for years to come.
"Those two will be hard to replace but they are a great example of how nice they are to the team and to the young ones," LeBrecht said. "They care about everybody, not just their group. They are great role models and they will be hard to replace."
The Whalers next game will be Thursday, October 26 when they travel to Cape Cod Academy to play the Seahawks at 2:30 p.m.
Boys Soccer Shuts Out Falmouth Academy
The Whaler boys soccer team continued their strong play this season in a road matchup against Falmouth Academy on Tuesday – beating them 5-0 to improve their record to 9-3-3 this season.

Nantucket's goals were scored by junior Jake Johnson (two), junior Elvis Alonzo (two), and junior Andre Barrett. The Whalers have moved up the power rankings rather quickly of late – coming in as the #12 team in the MIAA's latest Div. 4 bracket, which was released late Tuesday morning.
The Whalers have now won five straight matches and remain undefeated in October with a 5-0-1 record. Their last loss was on the road against Barnstable 3-1 on September 30.

The Whalers have three more games remaining. They will host Cape Cod Academy on Thursday, October 26 at 4 p.m., Martha's Vineyard on Saturday, October 28 at 11 a.m., and then close out their season by traveling to Sturgis West to face the Navigators on Monday, October 30 at 4 p.m.
Field Hockey Beats Westport, Extends Win Streak To Four Games
The Whaler field hockey team beat Westport 5-0 on Tuesday – improving their record to 8-4-3 this season.
Nantucket's goals were scored by senior captain Caroline Allen, senior Lily Remick, junior Sam Zadroga, junior Suz Peraner, and the fifth goal was scored by either junior Claire Genthner or sophomore Marin Mooney in front of the net, but it was unclear after the game who had actually punched it in according to head coach Dan Weber.
Head coach Elizabeth Baraldi said after the game she felt her team played great all around, executed, made corrections where they needed to make them after a subpar first quarter, and walked away with the result they wanted.
Nantucket will have a big game on Wednesday, October 25 when they travel to Dennis-Yarmouth for a matchup with the Dolphins at 3:30 p.m. DY got the better of Nantucket earlier this season in the Whaler's season opener – beating Nantucket 3-2.
Volleyball Loses To Barnstable
The Nantucket volleyball team battled with one of the state's best on Monday as the Barnstable Red Hawks, Div. 1's #3 team, came ashore for a matchup with the Whalers.
While Nantucket lost 3-0, they made Barnstable earn this one.
Set One was 21-25 Barnstable
Set Two was 22-25 Barnstable
Set Three was 15-25 Barnstable.
The Whalers continue to compete at a high level against high end competition. They remain at #9 in the MIAA's latest Div. 4 power rankings as well. They will close out their season with a road matchup against Sturgis East on Wednesday and a home matchup against St. John Paul II on Friday (senior night, 5 p.m. start).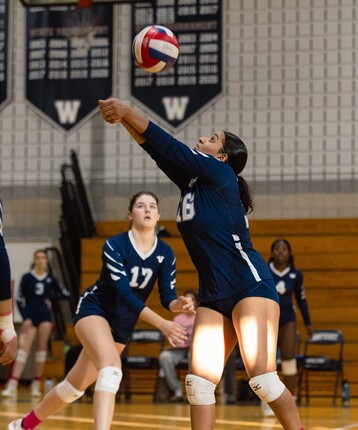 Nantucket & Martha's Vineyard Athletic Departments Introduce "Golden Anchors"
Nantucket Athletic Director Travis Lombardi announced in an email Monday night that after consulting with Martha's Vineyard Athletic Director Mark McCarthy, there will be an added twist to this weekend's slate of Vineyard vs Nantucket varsity sports games that they hope ignites a new, longstanding tradition.
The Whaler and Vineyarders' boys and girls soccer teams, as well as the field hockey teams will play for the "Golden Anchor." The winner of each game will win their sport's Golden Anchor, meaning three total will be handed out on Saturday to go along with the Island Cup, which is awarded annually to the winner of the Nantucket vs. Martha's Vineyard football game.
"We are extremely excited about this new tradition as we believe that over the years the rivalries in all of our sports have grown and we thought that bringing this type of attention to our other sports was much needed," Lombardi said. "It is our hope that our communities, along with the players and coaches both past and present, can now really see the healthy rivalry that has been created across the board with all sports."
Lombardi also shouted out Nantucket varsity girls soccer coach Doug LeBrecht for being the one to suggest the idea to him in the past. Lombardi also said these new Golden Anchor trophies will be on site Saturday for the community to see.
SCHEDULE AHEAD:
Wednesday, October 25:

The field hockey team will be traveling to Dennis-Yarmouth for a 3:30 p.m. game against the Dolphins.
The volleyball team will be on the road to face Sturgis East at 5 p.m.
Thursday, October 26:

The boys soccer team will be at home facing Cape Cod Academy at 4 p.m.

The girls soccer team will be on the road facing Cape Cod Academy at 2:30 p.m.
Updated MIAA state tournament brackets are released on Tuesdays and Fridays at 11 a.m. To view them, click here. For more sports content, follow our Current Sports Instagram page here. You can follow Current Sports photographer Chris Tran here.
Current Sports