Whaler Sports Roundup - October 2 & October 3, 2023
David Creed •
This Whaler sports roundup includes updates on the golf team following yet another pair of wins, the boys soccer team and their entertaining matchup with Monomoy, the girls and boys cross country teams, the field hockey team, and the girls soccer team.
Golf Remains Red Hot, Win Streak Increases To Six
The Whaler golf team won both of their matches in relatively easy fashion Monday and Tuesday, and are now winners of six straight matches and eight of their past nine matches.
"It has just been absolutely electric stuff from the boys of late," head coach Sam Herrick said. "It just comes down to them buying in. The course management has been really good, they're wanting to win and are hungry, and they obviously want to go out and try to win a league title."
On Monday, conditions weren't ideal with the boys playing in wind and on a wet course, but strong performances from seniors Henry Kathawala and Paddy Carroll lifted the Whalers to victory over the Sturgis West Navigators 249-272.
The scores were as followed:
Henry Kathawala – 38 (+2)
Paddy Carroll – 39 (+3)
Ryan Davis – 42 (+6)
Colby O'Keefe – 42 (+6)
Cole Chambers – 43 (+7)
Braden Knapp – 45 (+9)
Michael Culkins – 46 (+10)
Jack Halik – 47 (+11)
On Tuesday, the Whalers hosted the Rising Tide Herons on a beautiful fall day – winning handily by a score of 234-291.
The scores were as followed:
Henry Kathawala – 36 (E)
Colby O'Keefe – 38 (+2)
Cole Chambers – 39 (+3)
Paddy Carroll – 40 (+4)
Michael Culkins – 40 (+4)
Braden Knapp – 41 (+5)
Jack Halik – 42 (+6)
Ryan Davis – 43 (+7)
"The fact that we threw out as our two worst scores today a 42 and a 43 is just shocking at how good that is," Herrick said following Tuesday's match. "Halik had his best round ever. He even told me before he went out 'I'm feeling really dialed right now.' He made the first birdie of his life today, so he was so pumped. He was psyched."

"Overall I just couldn't be more excited about the way the boys are playing," Herrick added. "Henry is just playing so well right now. I think Henry in his past five rounds is a two or three over."
The Whalers are now 9-2 this season and their next match will be on Thursday, October 5 when they travel to the Cape to take on the St. John Paul II Lions at 3:30 p.m.
Boys Soccer Ties Monomoy 3-3
The Whaler boys soccer team entered Tuesday as the #19 seed in the MIAA's latest Div. 4 state tournament bracket. The Monomoy Sharks, who visited the Whalers Tuesday afternoon for their first matchup of the season, are currently ranked #14 in Div. 4
If the season were to end today, these two teams would face off in round one of the state tournament and Tuesday's 3-3 tie indicated it would be one intriguing first round matchup.
"Our guys did a really good job today managing the game," head coach Rich Brannigan II said. "I don't think we let the game slip away even though we didn't get the three points. I thought it was just an unfortunate 30 seconds in the last minute and a half, or maybe two minutes and thirty seconds left - something like that. We did everything I asked the guys to do. They played short-staffed, our boys were, and they were still in position to win the game."
Monomoy struck first at the 27th minute mark to make it a 1-0 game, but the Whalers responded with a goal at the 42nd minute mark to tie it 1-1. The goal came off the foot of junior Jake Johnson, who continues to be one of the Whalers most lethal goal scorers through the first half of their season.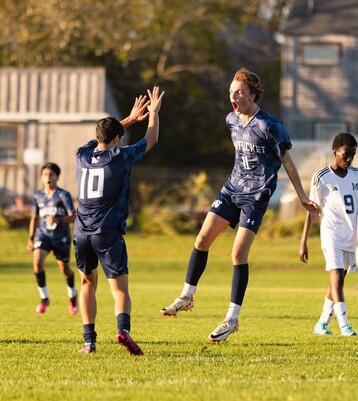 The game was 1-1 going into halftime and the Sharks retook the lead five minutes into the second half to make it a 2-1 game. But Johnson once again created his own offense. Johnson raced from the left side towards the middle, let a shot go, and it curved just inside the far post to tie the game 2-2.
"Jake had two more goals which was really good to see because we need our goal scorers to feel confident, to be confident and to play with confidence, and Jake has been showing that the last couple games," Brannigan said. "For him to get two today, that certainly helps that confidence."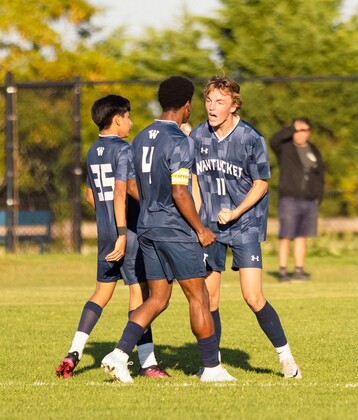 Junior Ryan Coleman gave the Whalers a 3-2 lead about eight minutes later. The Monomoy goalie came out of his net to play a ball when Coleman gained possession near the midfield and let a shot go into the empty net just before the Shark's keeper could get back into position.
"We were talking pregame about focus for 80 minutes and keeping that light switch turned on and that was certainly one of those plays where you're aware of your surroundings, you're aware of your opponent's surroundings and he won the bouncing ball and put it on net," Brannigan said. "So it was certainly a heads up play but those are the kind of plays that certainly make or break a season and can propel a team when they need a little boost. Ryan provided that for us today and he played in a new position as well."
Brannigan continues to be impressed with the plethora of roles Coleman is able to fill. He was complimentary of his ability to assume different roles based on the game plan in place for each particular game.
"He's really a flexible player with a very broad skillset that allows me the opportunity to play him where we need him and when we need him," Brannigan said. "Mentally he's okay and ready to do that for us."

The Whalers appeared to be on the cusp of victory as the game entered its final minutes, but a blown call by a referee awarded a throw in to Monomoy rather than Nantucket. The Sharks made the most of the opportunity and quickly transitioned into Whaler territory before ultimately burying a loose ball out in front of the net to tie the game 3-3.
"In our heads I think we were like 'our ball, we're going,' but then we had to quickly transition to a defensive mind," Brannigan said while explaining the sequence of Monomoy's third goal. "I thought we cleared the first ball and then a ball came bouncing back into what seemed like a player in the offside position. He was able to sort of body it in but you know, we benefited from a few probably questionable calls. They benefitted from a few questionable calls."
The Whalers are now 4-3-3 this season and will be in action again on Thursday, October 5 when they host the St. John Paul II Lions at 4 p.m. The Whalers beat SJP on the road 1-0 on September 21.
Girls Cross Country Wins, Boys Cross Country Loses Home Meet
The Whaler girls cross country team won their home meet against the Rising Tide Heron 15-50, which head coach Lisa Wisentaner said is considered a perfect score since her team swept the first five places.
"Hannah Harrington continues her winning streak, taking first place (time of 22:30)," Wisentaner said. "Bailey Lower (23:26) and Chloe Girvin (26:01) took second and third. Kaitlyn Harrington took fourth place (26:51) and is continuing to cut time each meet and doing a great job of cutting the time between our 1st and 4th runner which makes a big difference in each race. Keegan Farrell (27:19) and Andrea Bunlerssak (29:11) closed out our girls - taking fifth and seventh place."
As for the boys, they lost to the Heron 31-24. Wisentaner said they had two runners who were sick, which didn't help the Whalers cause, but she added that Rising Tide would have still been a tough team to beat with everyone running healthy.
"Rory Murray continues his winning streak with a season PR of 19:40. Dorian took fourth place and also had a PR of 20:36," Wisentaner said. "Gus Barber took the seventh place spot and ran a really great race while being sick (24:33). Really showing up for the boy's team today were Numa Solano (25:22) and Nick Ferrantella (25:47) - finishing ninth and tenth respectively. Both of these runners have such determination to improve each meet and you can see their confidence and speed increase with each race."
Nantucket's next meet is currently scheduled for Tuesday, October 10 at home against the Falmouth Clippers at 4 p.m. These meets take place at the Gardner Property.
Field Hockey Shut Out On The Road Against Falmouth
The Whaler field hockey went on the road Monday afternoon to take on the Falmouth Clippers hoping to keep their momentum from a successful two game weekend road trip going.
But the Clippers had different ideas and shut out Nantucket 3-0. It was the first time in six games that the Whalers did not either tie or beat their opponent (last loss was September 13 at Monomoy).
The Whalers record through nine games is now 4-3-2 and they are currently the #13 seed in the MIAA's latest Div. 4 state tournament bracket, which was released Tuesday morning.
Nantucket now shifts their focus to a possible revenge game against the same Monomoy team that beat them last month when the Sharks travel to Nantucket on Wednesday, October 5 for a 4 p.m. matchup.
Girls Soccer Drops Road Matchup Against Monomoy
The Whaler girls soccer team was on the road for a third consecutive game hoping to build off of last Thursday's 3-0 victory over Dennis-Yarmouth.
Unfortunately for the Whalers, they lost to the Monomoy Sharks Tuesday afternoon 4-1. Their lone goal came from a familiar source – sophomore captain Chelsea Gross.
Nantucket is currently 4-5 this season and the #25 team in the latest Div. 4 state tournament bracket. They will look to get back to .500 on Thursday, October 5 when they travel to the Cape to face St. John Paul II at 3 p.m. The Whalers lost to SJP earlier this season 7-1.

SCHEDULE AHEAD:
Wednesday, October 4:
The field hockey team will be at home playing the Monomoy Sharks at 4 p.m. The Whalers played Monomoy earlier this season and lost 6-1.
The volleyball team will be on the road to face the Falmouth Clippers at 3:30 p.m.
Thursday, October 5:
The boys soccer team will be at home facing the St. John Paul II Lions at 4 p.m.
The girls soccer team will face the Lions on the road at 3 p.m.
The golf team will also be in action - traveling to SJP to face the Lions at 3:30 p.m.
To view the latest MIAA state tournament brackets, click here. For more sports content, follow our Current Sports Instagram page here. You can follow Current Sports photographer Chris Tran here.
Current Sports