Whaler Sports Roundup - October 4 & October 5, 2023
David Creed •
This Whaler Sports Roundup includes updates on the boys soccer team, who earned another victory, the volleyball team, the golf team, the field hockey team, and the girls soccer team.
Boys Soccer Shuts Out SJP 2-0
Led by junior Elvis Alonzo and freshman Calvin Guevara, the Whaler boys soccer team defeated the St. John Paul II Lions 2-0 Thursday afternoon on the island - improving their record to 5-3-3 this season.
"I think we played good," head coach Rich Brannigan II said postgame. "We didn't have as much of the ball as I wanted or as much possession as I wanted but when we had it we were able to create dangerous chances. We got better as the game went on. I thought we had some nice combination plays, give-and-gos, and moving of the ball especially at the end. It looked pretty good. St. John Paul didn't have many threatening chances. Alex (Ivilov) made a great save on a long shot in the second half. That was a good shot and a great save."
The Whalers scored both of their goals in the first half. With 17:20 to go, it was senior Edin Vasquez dribbling the ball upfield before executing a sweet little touch pass to a streaking Guevara, who patiently took the pass, approached the net, and buried it inside the far post to give Nantucket the 1-0 lead.
"Calvin is a good manager of the game," Brannigan said. "Normally he's got a good sense for when to move, where to move, when to move, how quick to move. He sort of sets that tempo, which is good for a young player to have that sort of game awareness. That's really good."
In the final 30 seconds of the half, it was Alonzo who quickly pounced on a loose ball in front of the Lion's net and buried it to give Nantucket an insurance goal and a 2-0 lead going into halftime.

From there, the defense played exceptional and some strong performances from senior captain Rodane Watson, senior Kinnick King, and junior Ryan Coleman held SJP in check.
Ivilov, while facing limited high quality opportunities, stepped up when called upon to earn the shutout. While the sophomore continues to be a steady, sharp, dependable option as the team's keeper, Brannigan said after the game it will be a priority to get senior captain and goalie Aiden Congdon time in net to keep both goalies fresh. Both have played well when called upon.
The Whalers will now have some time off, which Brannigan said he believes his team could use, and will be in action again on Thursday, October 12 at 4 p.m. against the Dennis-Yarmouth Dolphins.

Volleyball Beats Falmouth 3-1
The Whaler volleyball team earned a 3-1 victory over the Falmouth Clippers Wednesday afternoon. The win improved Nantucket's record to 7-3 as they continue to grind through a difficult schedule and battle to remain in the top ten of the MIAA Div. 4 State Tournament Bracket.
The Whalers showed plenty of adversity in this matchup. They lost the first set 21-25, giving the Clippers some early momentum in their home gym.
But Nantucket rallied and had a very strong second set – winning it 25-13. The third set was narrowly won by the Whalers 25-23, and then in set four Nantucket dominated in similar fashion to set two – winning 25-12.
"This group of young women are pure warriors," head coach Andrew Viselli said after the game. "How they show up and play is beyond me, but they do. I am inspired by them and proud to be their coach."
Senior captain Chloe Marrero finished the match with 23 kills. Senior Alice O'Bannion finished with 10 blocks. Junior captain and libero Vicky Todorova finished with 51 digs.
The Whalers will now face another tough test on Saturday, October 7. They will be hosting Nipmuc Regional High School at 11:30 a.m. Nipmuc is currently 11-0 this season and 30-1 in regular season play dating back to last year's 19-1 year, which ended with a defeat in the Div. 4 state quarterfinal.
Nipmuc moved up to Div. 3 this year and is currently the #1 seed. The Whalers remain in Div. 4. They are currently the #8 seed.
Golf Loses Tight Match To St. John Paul II
The Whaler golf team felt good about their chances of defeating the St. John Paul II Lions Thursday afternoon and clinching the league championship, but the Lions narrowly pulled off a 242-246 victory over Nantucket.
The Whalers had shot under 240 in three of their last five matches, and their depth has proven to be effective and allowed head coach Sam Herrick to field six dependable golfers each match – led by senior Henry Kathawala.
The scores for the Whaler golfers are below. Kathawala once again paced the Whalers and led the team with a 35.
Henry Kathawala – 35 (E)
Braden Knapp – 39 (+4)
Paddy Carroll – 41 (+6)
Colby O'Keefe – 42 (+7)
Ryan Davis – 44 (+9)
Michael Culkins - 45(+10)
Cole Chambers – 46 (+11)
Jack Halik – 49 (+14)
Nantucket has three matches remaining on their schedule but just one more home matchup. They will host the Sturgis East Storm on Tuesday, October 10 at 3:45 p.m., travel to Dennis-Yarmouth on Tuesday, October 17 to face the Dolphins at 3:30 p.m., and they will travel to Barnstable on Wednesday, October 18 for a 3:30 p.m. matchup with the Barnstable Red Hawks.
Field Hockey Loses Close Game To Monomoy
The Whaler field hockey team was very close to some more magic on their homefield against the Monomoy Sharks Wednesday afternoon. The Whalers entered Wednesday facing very similar circumstances to what they faced last year on the island against the top seed in Div. 4.
Nantucket tied Monomoy 1-1 last year at home thanks to a goal by Caroline Allen on the final play of the game off a corner, and on Wednesday the Whalers nearly pulled it off again.
The Sharks and Whalers were tied 0-0 at halftime, but Monomoy came out in the second half and scored a quick goal to take a 1-0 lead with 10:55 to go in the third quarter.
The score remained 1-0 entering the final quarter of play, but with 4:30 to go it was Allen getting control of a loose ball and burying it for the tying goal just like she had done one year ago. It appeared the Whalers would at least be heading home with another tie after losing to Monomoy earlier this season 6-1 on the road.
But the end result was different. Monomoy kept pushing and eventually gained control of the offensive zone. After a couple minutes of consistent pressure, they scored with 1:21 remaining on the clock to retake the lead and ultimately win 2-1.
The Whalers are now 4-4-2 and will attempt to win their fifth game of the season next Friday, October 13 when they travel to the Cape to face St. John Paul II at 4 p.m. The Whalers tied SJP earlier in the season, on Nantucket, 0-0.
Below are some photos from the game.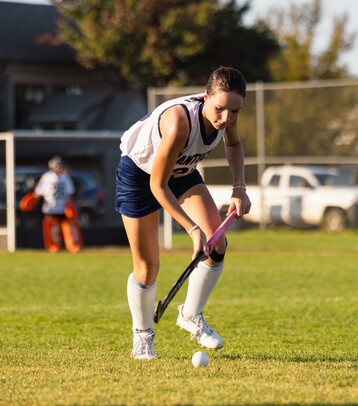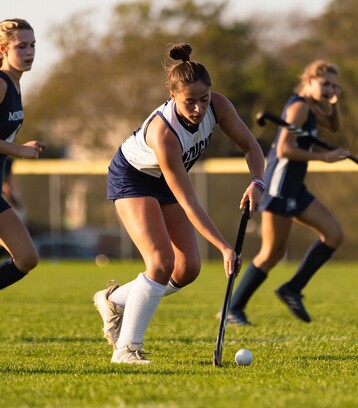 Girls Soccer Falls To 4-6
The girls soccer team struggled on the road Thrusday afternoon against the St. John Paul II Lions – losing the game 8-1. The Whalers faced SJP twice this season and lost both games.

Sophomore captain Chelsea Gross scored for Nantucket, and head coach Doug LeBrecht said he continues to be proud of Gross and her performances all season long.
After jumping out to a 3-1 start this season, the Whalers have struggled in their last six games and are just 1-5. Injuries have hit Nantucket hard with senior captain Claire Misurelli and junior captain Adney Brannigan still sidelined with injuries. Depth was a concern entering the season, and LeBrecht knew if they had to deal with even one injury - it could spell problems for his team.
But there is still plenty of season to go, and the Whalers will have a chance to get back in the win column on Friday, October 6 when they travel to Notre Dame Academy for a 3:30 p.m. game.
SCHEDULE AHEAD:
Friday, October 6:
The football team will travel to Dennis-Yarmouth to play the Dolphins at 4:45 p.m.
The girls soccer team will travel to Notre Dame Academy for a 3:30 p.m. game.
Saturday, October 7:
The volleyball team will be the only varsity team in action - hosting Nipmuc Regional High School at 11:30 a.m.
Updated MIAA state tournament brackets will be released on Friday, October 6 at 11 a.m. To view them, click here. For more sports content, follow our Current Sports Instagram page here. You can follow Current Sports photographer Chris Tran here.

Current Sports