Whaler Sports Roundup - September 11 & 12, 2023
David Creed •
This Whaler sport's roundup includes updates from every game that took place on Monday, September 11 and Tuesday, September 12.
The varsity golf team lost a tight match to Barnstable on Monday and were right back at it on Tuesday against Cape Cod Academy - earning a win (albeit in ugly fashion).
The volleyball team found themselves in a five-set thriller against Div. 1 Bridgewater Raynham on Monday.
The boys soccer team hosted Falmouth on Tuesday and some late game heroics helped them earn a tie.
The girls soccer team traveled to Falmouth on Tuesday, and the cross country team won their first league meet of the season.
More on each of these games below.
Golf Drops Close Matchup To Barnstable, Beats CCA
The Whaler golf team had a tough match on Monday against Barnstable losing 249-239, but Nantucket still had some solid scores across the board.
Henry Kathawala shot a 42.
Cole Chambers shot a 40.
Braden Knapp shot a 42.
Paddy Carroll shot a 40. Head coach Sam Herrick was very complimentary of his play after the match. It earned him the top spot in the lineup on Tuesday against Cape Cod Academy.
Michael Culkins shot a 43.
Colby O'Keefe shot a 47.
Ryan Davis shot a 42.
"Tough L for the boys (Monday)," Herrick said. "We had some rain and difficult weather but I told the boys Barnstable is playing in the same weather. They have a very good team - highlighted by their number one golfer shooting -2."
Herrick said his team needs more out of their top three golfers moving forward and has identified the areas that need to get better.
"All of them need to improve on their short game and that's what we'll be working on," Herrick said. "I'm very happy with the play of Paddy Carroll and Ryan Davis in particular this year (so far). Michael Culkins has also been consistent."
The Whalers then hosted the Cape Cod Academy Seahawks Tuesday afternoon. They were able to win, but it was an ugly victory. The final score was 258-275. The 258 mark was the worst of the season through three games (250 against DY; 249 against Barnstable).
Herrick said there were a lot of things his team could have done better against CCA.
"I didn't like some of the shot selections I was seeing," he said. "Poor choices led to bad results. There are guys on the team who need to shoot the low scores we all know they can shoot."
He said the solid play from Culkins and Davis continued and highlighted them as bright spots.
"I'm very happy with them and their consistency so far," Herrick said. "Colby O'Keefe also took a bad round against Barnstable (on Monday - shot a 47) and shaved 5 strokes off (Tuesday against CCA) so that is tremendous improvement. We'll be working on some things at practice (Wednesday) and I hope we can improve on some areas where we are lacking."
The Whalers next match will be Thursday, September 14 on the road against Rising Tide at 4 p.m. The scores from Tuesday's matchup with Cape Cod Academy are below.
Paddy Carroll – 48
Braden Knapp – 45
Henry Kathawala – 42
Cole Chambers – 43
Michael Culkins – 43

Colby O'Keefe – 42
Ryan Davis – 43
Jack Halik – 53
Volleyball Wins Five Set Thriller Over Bridgewater Raynham
The Whaler volleyball team showed a lot of moxie Monday afternoon in their road matchup against Bridgewater-Raynham, a Division I program. After dropping the first set 21-25, the Whalers bounced back to win each of their next two sets 25-23.
BR bounced back nicely in set four winning it 20-25, but the Whalers left little doubt in the deciding fifth set of who would walk away victorious that evening. They jumped out to an 11-3 lead in the set and eventually won it 15-8, much to the delight of their head coach – Andrew Viselli.
"It was a five-set battle," he said. "Obviously so happy to come out with a win. That is always a great thing but after a five-setter I always say the same thing that it doesn't matter. We cannot replicate those reps in practice. What we just learned and what we were able to be given by that team to show us our weaknesses, to show us where we're really, really good, and really what we need to improve is invaluable."
Senior captain Chloe Marrero led the team with 24 kills, but Viselli said there is room for improvement as it took her 53 attempts to get those two dozen kills. He continues to be impressed with Marrero as a player and a leader. Alice O'Banion (10), Rihanna Cranston (9), and Leah Crowley (8) were the other Whalers to record kills in the match.
"Chloe and Ri really took a lot of swings and put in yeoman's work," Viselli said. "Everyone did I mean, Vicky (Todorova) was cramping up on the bus ride home, Chloe and Rihanna are literally shells of themselves because they exerted so much energy. Bianca (Santos) couldn't walk up the stairs. It was amazing. I am so proud of this team."
The Whalers had just 10 aces in this match. Crowley led the team with five blocks and O'Banion was right behind her with three of her own. Yahely Del Rosario Gomez led the team with 39 assists while Santos chipped in six assists of her own.
Viselli said he told his team to enjoy the win and soak in the experience Monday night before worrying about their next match, which is against the Falmouth Clippers at home on Thursday, September 14 at 4 p.m.
"I said let's just process the game and let your bodies recover before we dive into what we need to improve," Viselli said. "I told them we can talk about it (on Tuesday) but for now, let's just enjoy the victory and enjoy your teammates. On Tuesday we will do a deeper dive when they are a little more open because right now they are just super hyped."
Boys Soccer Ties, Girls Soccer Shutout By Falmouth

It was beginning to look like the Whaler boys soccer team was going to come up short Tuesday evening on the island against the Falmouth Clippers, but a strong second half led to a number of high quality scoring chances that put the Clippers on their heels entering the final minutes of match play.
With two minutes remaining in the game it was junior Jose Diaz who corralled a ball that was kicked towards the Whaler's attacking zone, performed a quick deke to get to the middle of the field and create some separation, and hammered a shot past the Falmouth goalkeeper to tie the score 1-1. It was a result Whaler head coach Rich Brannigan felt his team deserved.
"The first half was pretty even except for the one goal (Falmouth) scored (in extra time of the first half) and it was really good to see the guys keep fighting until that very last minute," Brannigan said. "We were a little unlucky. Elvis (Alonzo) was in once or twice, hit the post, but the guys kept going. We called a timeout, changed our tactics a bit and added a striker, and it paid off."
Brannigan said if his team finished their scoring chances a little better, he felt like his team would have won the game.
"But I don't really want to blame the guys for that. It was a good game of high school soccer. I was proud of the guys to keep fighting because it shows mentality. It shows grit. It shows that piece that you sometimes can't teach - that the guys are just going to keep battling no matter what the score is or what the situation in the game is," Brannigan said. "I think there were times when we were fatigued. I was trying to bring new energy onto the field. We played 18 guys. We went pretty deep, which is what we are going to need to do. A couple of guys got their first varsity minutes today and played significantly well and contributed."
Nantucket, now 1-0-1 this season, will be in action again on Thursday, September 14 at 4 p.m. against the Sturgis East Storm.
As for the girls soccer team, they played the Clippers in Falmouth Tuesday evening but lost 1-0. It was the first loss of the season for the Whalers, who are now 3-1 this season. Head coach Doug LeBrecht said while it wasn't the outcome he and his team wanted, he is not disappointed in the team or our their performance.
The Whalers will look to get back on track Thursday at home against the Storm. The game is scheduled to begin at 4 p.m.
Cross Country Secures First Win Of Season
The Whaler cross country team was on the road for their first league meet of the season against Sturgis West on Tuesday. Head coach Lisa Wisentaner was happy with the efforts of the boys and girls teams, both of whom walked away with victories of 15-50 and 21-35 respectively.
"Today was really good," Wisentaner said. "We had some really great highlights (Tuesday). Hannah Harrington and Rory Murray had their first ever high school first place wins. We had significant improvements across the board which was great because we were on a course that had some pretty intense hills on it. We had four eighth graders come with us and they were significant in the scoring of the race."
For girls, Harrington finished with a top time of 23:25. The time was 20 seconds slower than her last score on September 5 against Dennis-Yarmouth. Bailey Lower was second amongst all girls with a time of 24:46, which was a 30 second increase over her last time in the DY meet.

As for the boys, Rory Murray had a top time of 21:06. Dorian Manov finished second with a time of 21:56, which was 14 seconds faster than his last recorded time.
"It was really, really great to see the kids see all of their individual improvements so early in the season just between the first meet and the second meet," Wisentaner said. "Ultimately our goal is for each kid to celebrate their own improvement and we get to do that every single race. We will take those successes. It was a really good day."
The Whalers next meet will be next Tuesday, September 19 at home against Cape Cod Academy at 4 p.m. The meet will take place at the Gardner Property.
*NOTE*
NHS Athletic Director Travis Lombardi announced on Tuesday that due to Hurricane Lee and the likelihood of Saturday boat cancellations, the boys and girls soccer games as well as the field hockey game scheduled for Saturday on Martha's Vineyard have been moved to Sunday, September 17.

Below are some photos taken during Tuesday's boys soccer game and Monday's golf match.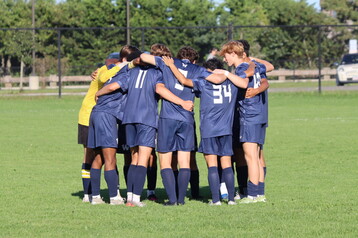 Current Sports