Whaler Sports Roundup – September 13 & 14, 2023
David Creed •
This Whaler sports roundup covers several Whaler sports teams in action Wednesday and Thursday of this week. The volleyball and girls soccer teams continued their winning ways, the golf team won another match, the boys soccer team earned themselves another tie, and football and field hockey lost their road games.
Volleyball Beats Falmouth 3-0
The Whaler volleyball team earned their fourth straight victory following a 3-0 win over the Falmouth Clippers Thursday afternoon at Nantucket High School. Despite the win, head coach Andrew Viselli was visibly and vocally frustrated throughout the course of the match. He said it comes down to a lack of consistency being shown from his team and feels like they need to improve their mental toughness in order to reach the next level.
"They lack focus. They lack discipline. They're not finishing," he said. "We may have a couple of good swings or a pair of aces. The other team may be making a lot of errors and they think it is a reflection on them when in reality the ball should have been put away four touches ago. My issue is we're not mentally strong enough to realize how good we are and that we can keep it turned on all the time – so I am putting pressure on them."
The sets were:

Set One: 25-18
Set Two: 25-19, the Whalers started out slow but bounced back with a strong back half of the set.
Set Three: 25-22, the Whalers appeared to have a comfortable lead late but began to stumble while just needing a couple more points to clinch the match. They eventually pulled off the win, but Falmouth made the third set very interesting.
Viselli did say there were plenty of positives to take away from Thursdays match as well, including the play of Alice O'Banion and Rihanna Cranston, which has been excellent through five games this season.
"How many times can I mention Alice O'Banion? She has been awesome," Viselli said. "I look at Rihanna Cranston and while she had four or five bad passes at the end of the match, overall she had an awesome match. She was serving, swinging, playing defense. That kid has come a long, long way."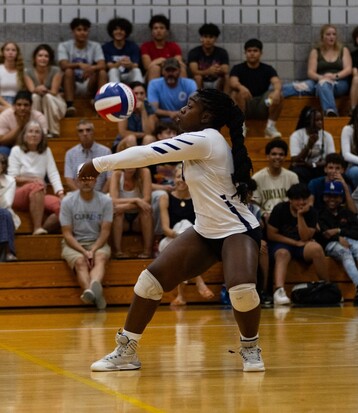 Chloe Marrero led the team with 18 kills. Cranston had 11 of her own. O'Banion finished with six blocks.
The Whalers are now 4-1 this season and they will have some time off before getting back into game action on Monday, September 18 at 4 p.m. when they host Bridgewater-Raynham. The Whalers traveled to BR earlier this week and won the match in a five-set thriller.
Girls Soccer Shuts Out Sturgis East
For the second time this season the Whaler girls soccer team shut out an opponent. They beat the Sturgis East Storm Thursday afternoon 4-0 behind two goals from Chelsea Gross and two goals off the foot of Gianna Quinn.
"Chelsea is finally shooting and she looks great out there," head coach Doug LeBrecht said. "She is a clutch player. I think you also need to give credit where credit is due. Adney Brannigan had 34 goals last season and I believe 17 of them were assisted by Chelsea. She is kind of a silent hero. She has really stepped up so far this season."
Gross had the rare honor of being named a captain of the varsity team before the season despite only being a sophomore, but LeBrecht said it was well deserved.
Nantucket has one senior (Claire Misurelli), one junior (Adney Brannigan), and one sophomore captain. LeBrecht said this is his attempt at building an established chain of leaders within the program so year after year new players are ready to step into leadership roles once the older players graduate.
LeBrecht also spoke highly of Quinn, who has moved up the field and in the process of becoming more of an offensive-minded player at her new striker position. She is being asked to push the play and generate offense now, and LeBrecht felt like Thursday afternoon was a step in the right direction.
"We put her in that striker position and that first game she was sort of hanging back trying to be a defender but today I think she really began to trust herself.," LeBrecht said. "You could tell she was more comfortable in that offensive role (Thursday)."
Nantucket is now 3-1 this season. They have outscored their opponents 15-2 despite being without Brannigan, who continues to recover from an ankle injury she suffered in the first game of the season. The Whalers will have an opportunity to win their fourth game of the year on Sunday when they travel to Martha's Vineyard for an 11 a.m. game.
Golf Beats Rising Tide
The Whaler golf team was on the road Thursday afternoon for the first time this season to take on the Rising Tide Herons at the Crosswinds Golf Club. Nantucket won the match 252-286. The score was a better mark than the one they put together on Tuesday against Cape Cod Academy (258) but worse than the other two scores earned against Dennis-Yarmouth (250) and Barnstable (249) this month.
The scores for each Nantucket golfer are below.
Henry Kathawala – 39, highest score of the season for any Whaler golfer so far.
Braden Knapp – 43
Colby O'Keefe – 49
Cole Chambers – 42
Michael Culkins – 42
Paddy Carroll – 43
Jack Halik – 43 (career best)
Nantucket is now 3-1 this season and their next match is scheduled for Tuesday, September 19 at 3:45 p.m. against St. John Paul II at the Miacomet Golf Course.
Boys Soccer Ties For Second Consecutive Game
The Whaler boys soccer team tied the Sturgis East Storm on the road Thursday afternoon 1-1. It was a game Nantucket head coach Rich Brannigan II felt his team should have won, but the win slipped away as a result of his team being unable to finish the large bulk of their scoring chances.
"We are a pretty young team and don't have a whole lot of varsity experience so I think our youth is playing a factor in our inconsistency right now," Brannigan said. "We scored first and maybe the boys thought they were going to have a cake walk of a game. Our mentality was not right. We have to compete for 80 minutes."
Brannigan said one of the primary concerns he has for his team early on is their inability to end halves strong. He said the mark of a good team is winning the final five minutes of each half. The Whalers have been a part of back-to-back 1-1 ties against Falmouth and the Storm this week. The lone goals for each team came in the extra time of the first half.
"We lost the last five minutes against Falmouth and we lost the last five minutes of the first half against Sturgis East," Brannigan said. "You can't do that and expect consistency. That was my message to the boys. Sturgis East had some good players but this is a game where we should have had a better result."
Edin Vasquez scored Nantucket's lone goal off an assist from Jose Diaz, who was the hero of Tuesday's game against Falmouth when he scored the equalizer in the second half.
Nantucket (1-0-2) now has a couple of days to rest before returning to game action on Sunday, September 17 against Martha's Vineyard at 1 p.m. on the Vineyard.
"It will be a tight turn around," Brannigan said. "They have to get up for it and may have to get up for it without even having a practice session because I don't know what Friday or Saturday is going to bring with weather."
Football Loses To Mashpee 34-7
The Whaler football team traveled to Mashpee for a matchup with their Cape & Island rival, but there wasn't much to celebrate during the 34-7 defeat Thursday afternoon.
The game ended on a high note with senior quarterback Carlos Aguilar connecting with sophomore wide receiver/running back Arann Hanlon for a 20-yard touchdown catch. Head coach Tim Psaradelis said they need to find more ways to get their best playmakers the football in space.
"We just got to figure out a way to reconfigure things and get our athletes the ball," Psaradelis said. "That's the number one thing right now is just making sure we have multiple ways to get someone like Hanlon and those types of athletes the ball as we need to. That is what we have struggled with."
The Whalers also recently began installing a new offense with sophomore quarterback Brock Beamish under center to utilize the athleticism and speed of Aguilar in other areas as a runner and as a receiver. Given that Thursday's game was moved up from Saturday due to Hurricane Lee, Psaradelis and his staff had very little time to implement the new offense.
"The short week didn't help with that," he said. "We had to cut the installation short. We lost those two days so we didn't get in the things we wanted to sort of set up the complimentary plays and so we were kind of just trying to do the best we can to get through the game and build off it."
Psaradelis added that their offensive line needs to block better for whoever is under center. He said the protection hasn't been good enough and they will continue to struggle as a team if they can't clean that up.

"There is a lot of inexperience. They are young and inexperienced. We are having some trouble right now getting the pieces in place, but we have a group that is willing to learn," he said. "We have kids playing running back coming up to us asking if we need them to play offensive line. That is just the kind of group this is, so it makes it easier to move players if we need to."
The Whalers will now have extended time off to prepare for their next game, which is a road matchup with the Sandwich Blue Knights on Saturday, September 23 at 1:30 p.m

Field Hockey Loses To Monomoy
The Whaler field hockey team traveled to Monomoy Wednesday afternoon to take on the Sharks. They were hoping to improve their record to 2-1 on the year, but lost 6-1 and are now 1-2 this season.
Caroline Allen was the lone Nantucket goal scorer. She scored her goal off of a corner opportunity and now has three goals in three games. The goal was assisted by Maddie Lombardi, who now has three helpers on the year.
Head coach Dan Weber said that Shelbi Harimon had 15 saves on 18 shots through three quarters – a strong performance, however she needed to leave the game due to an injury in the fourth quarter. Weber said he expects Harimon to be fine after a couple days of rest.
The Whalers next game will be on Sunday, September 17 when they travel to Martha's Vineyard for a 12:30 p.m. game.
Current Sports