Whaler Sports Roundup - September 17, 2023
David Creed •
There were three teams in action Sunday afternoon, all of which were on the road in Martha's Vineyard. These games were originally scheduled to take place on Saturday but were rescheduled due to the conditions of Hurricane Lee.
The field hockey team was the only team to walk away with a victory, and did so in convincing fashion while the boys and girls soccer teams both lost their games to the Vineyard.
Field Hockey Blows Out Martha's Vineyard 8-0
It was a clear and convincing win for the Whaler field hockey team Sunday afternoon – defeating the Vineyard 8-0 to improve their record to 2-2 on the year.

The Whalers had goal contributions from four different players. Caroline Allen scored two goals – increasing her total to five goals in four games on the year. Suz Peraner had two goals and added three assists. Ali Bamber scored twice and Claire Genthner chipped in two goals as well.
Nantucket was coming off a frustrating 6-1 loss on the road to Monomoy entering Sunday's game and will hope to carry the momentum they generated against the Vineyard going on Thursday, September 21 when they travel to Dighton-Rehoboth Regional High School for a 3:45 p.m. game. The Whalers came out on top when they hosted Dighton-Rehoboth on September 9 – beating them 2-0.
Boys Soccer Loses 3-2 To The Vineyard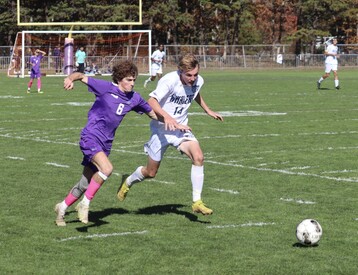 For a majority of Sunday's matchup with the Vineyard, Whaler head coach Rich Brannigan II and his team felt good about their play. They had a 1-0 lead at halftime and scored an insurance goal in the second half to take a 2-0 lead. It appeared they were on the cusp of getting revenge on the Vineyard for beating Nantucket in both matchups last year 2-0 and 3-0 respectively.
But the Vineyard rallied in the second half, scoring three unanswered goals to pull off the comeback victory. It was the first loss of the season for Nantucket, who now holds a record of 1-1-2 this season. Brannigan said he felt his team played well overall and that they had a good game plan.
The goal scorers for Nantucket were senior Edin Vasquez and freshman Calvin Guevara. The Whalers will be right back in action on Tuesday, September 19 when they travel to Nauset to take on the Warriors at 4 p.m.
Girls Soccer Shutout By Martha's Vineyard
The Whaler girls soccer team didn't have any answers for the Vineyard defense on Sunday and for the second time in three games were shutout, this time by a score of 2-0.
The Whalers still have a 4-2 record and are outscoring opponents 18-6 this season. They will be back in action on Thursday, September 21 when they host the St. John Paul II Lions at 4 p.m.
Schedule Ahead:
On Monday, September 18:

The Whaler volleyball team will host Bridgewater-Raynham at 4 p.m. They are the only varsity team in action that day.
On Tuesday, September 19:
The Whaler golf team will host St. John Paul II at 3:45 p.m.
The boys & girls cross country teams will host Cape Cod Academy at 4 p.m.
The boys soccer team will travel to Nauset for a 4 p.m. match.
For more sports content, follow our Current Sports Instagram page here.
Current Sports