Whaler Sports Roundup - September 18 & September 19, 2023
David Creed •
This Whaler sports roundup includes updates on four Whaler sports teams. The volleyball team had a convincing win on Monday over Bridgewater-Raynham, the cross-country teams had mixed results in their meet at home, the golf team came up short at Miacomet, and the boys soccer team lost on the road.

Volleyball Sweeps Bridgewater-Raynham 3-0
The Whaler volleyball team welcomed the Bridgewater-Raynham Trojans to the island Monday evening for a rematch of last week's five-set thriller in BR that Nantucket narrowly won.
It appeared early on that this game could be on track for a similar fate - with the winner of the match likely needing five sets to walk away with the victory.
But after Nantucket won the first set 25-20, they took quick control of the second and third sets. Those quick leads were enough to hold off late BR rallies and to win the match 3-0. They won the second set 25-15 and the third set 26-24.
Senior captain Chloe Marrero (19) and junior Rhianna Cranston (10) paced the Whalers in the kill department. Viselli said after the game those two players had the best performances of anyone on the team Monday afternoon. Cranston also had four of Nantucket's eight aces.
Senior Alice O'Banion (6) and junior Leah Crowley (5) led Nantucket in blocks. Junior captain Vicky Todorova had 46 digs and Whaler head coach Andrew Viselli said he doesn't understand why opposing teams continue to hit the ball to the all-state libero.
"The fact they keep serving her is disrespectful. I'm sorry but its just disrespectful" he said. "I'm a coach where if you are the best player in the state at a position, I am coming at you because I want to see what you can do, and I want to see what you really are. But once I realize you really are, I am not going there anymore. You are a dead space to us."
Viselli wasn't happy with the sloppiness and late set points allowed by his team in those sets, but the Whalers showed a calmness and resilience that impressed him and drew some rare praise from the head coach postgame.
"That was a great match and I don't say that," he said. "They were challenged, they fought, they persevered. We are trending in the right direction. You give up all those points and you allow a team to come back in but stay with it mentally and are able to close it? That's pretty good."
"But in my mind right now while we are celebrating BR, we got Barnstable High School on Wednesday."
The Whalers travel to Barnstable on Wednesday for a 4 p.m. matchup. Viselli said he believes Barnstable is "the best volleyball program in the state over the past three decades" and that he is excited for his team to have the opportunity to play program of that caliber during the regular season.
Boys Cross Country Win Twice, Girls Split In Dual Meet
The Whaler cross country team won their second straight meet Tuesday afternoon. They welcomed the Cape Cod Academy Seahawks and St. John Paul II Lions to the island. The boys team won 24-33 against CCA and 15-50 over SJP. The girls team beat SJP 15-50 but lost to CCA 22-37.
Head coach Lisa Wisentaner said the runners ran great and that there were a lot of impressive improvements. She said every runner on both teams improved their time from the squad's first home meet, which was also at the Gardner Property.
Rory Murray shined for the Whalers and took 1st place overall for boys race. Dorian Manov took 3rd, Gus Barber took 5th, Finley Seip took 6th, and Numa Solano took 9th to round out the top five Nantucket male runners.
For the girls, Hannah Harrington took 1st place overall, Bailey Lower took 5th place, Chloe Girvin took 9th place, Kaitlyn Harrington took 10th place, and Keegan Farrell took 12th to round out the top five female runners.

Wisentaner said that Murray and Harrington's blend of natural talent and work ethic has led to them achieving their impressive results so far this season.
The Whalers next meet will be next Tuesday, September 26 on the road against Monomoy at 3:30 p.m.
Golf Falls To 3-2 On Season
The Whaler golf team fell to 3-2 on the season today after losing to St. John Paul II 250-240.
Some of the top scores for the Whalers included:
Henry Kathawala - 42
Braden Knapp - 44
Cole Chambers – 38, a team best this season.
Paddy Carroll - 42
Michael Culkins - 41
Colby O'Keefe - 43
Jack Halik - 45
The Whalers were without senior Ryan Davis, who had begun the year hot and emerged as one of their most consistent golfers. After finishing seventh in scoring on the team as a junior, Davis had worked himself all the way up to the number two spot on the depth chart through three matches.
Unfortunately, Davis suffered a finger injury and is now out indefinitely - forcing Nantucket head coach Sam Herrick to scramble for answers to fill out his top six.
Nantucket's next matchup will be on Thursday, September 21 at 3:30 p.m. against Sturgis East on the road.
Boys Soccer Loses To Nauset 5-0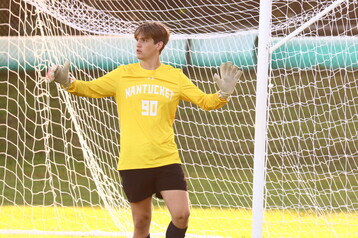 The Whaler soccer team lost to the Nauset Warriors on the road Tuesday afternoon 5-0, dropping their record to 1-2-2 this season.
It was the second consecutive loss for Nantucket, but head coach Rich Brannigan II told the Current after the game that he felt the final score wasn't indicative of how his team played.
Brannigan said his team struggled to find their rhythm on Tuesday and that there were some tired legs. It led to Brannigan managing minutes and rotating through 21 players in the match.
The Whalers will attempt to get back in the win column on Thursday, September 21 when they travel to St. John Paul II to take on the Lions at 4 p.m.
SCHEDULE AHEAD:
On Wednesday, September 20, there will only be one varsity sports team in action. The Whaler volleyball team travels to Barnstable for a 4 p.m. match.
On Thursday, September 21, the girls soccer team will host St. John Paul II at 4 p.m., the field hockey team will travel to Dighton-Rehoboth for a 3:45 p.m. matchup, the boys soccer team will travel to St. John Paul II for a 4 p.m. game, and the golf team will travel to Sturgis East to take on the Storm at 3:45 p.m.
For more sports content, follow our Current Sports Instagram page here. More photos from Monday's volleyball game and Tuesday's golf match - taken by Current photographer Chris Tran - are below.
Current Sports