Whaler Sports Roundup - September 20 & September 21, 2023
David Creed •
This Whaler sports roundup includes updates on four teams. The boys soccer team earned a hard-fought road win thanks to some late game heroics from a familiar face, the field hockey team played to a draw on the road, the volleyball team faced a top program in the state, and the girls soccer team lost at home.
Diaz Late Goal Lifts Whalers Over Lions 1-0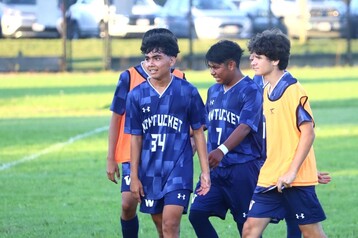 Jose Diaz has shown early on this season that he has a knack for scoring clutch, late-game goals. He scored the equalizer against the Falmouth Clippers earlier this month to help Nantucket secure a 1-1 tie, and on Thursday Diaz scored in the final two minutes against the St. John Paul II Lions to break the scoreless tie and win the game for the Whalers 1-0.
"He has a nose for the goal, and he knows how to get himself into good positions," head coach Rich Brannigan II said. "He scored that one (on Thursday) with his head. We were finding a lot of success on the right wing in the second half. We kept overloading, finding pressure, overlaps, give and go's, and our opportunities kept growing and growing."
Brannigan said senior Edin Vasquez had a strong game at striker – using his big frame to occupy space around the net and create opportunities for his teammates.
Through six games, the Whalers are 2-2-2. Given the lack of varsity experience this group had entering the season, those are results Brannigan is pleased with early on this season but acknowledged there is room to grow.
"I'm pretty happy with that," Brannigan said of his team's record. "I think we left some points on the board in that Sturgis away game. That was a bummer. But I liked our grit and fight in the Falmouth home game, especially given how dominant we were in that second half. I thought (Thursday's) game was actually really similar to the Falmouth game. We just got better and better as the game got deeper. I really, really like that out of a team. I really like that approach that our team has. It shows you have that grit and willingness to compete, battle, and do whatever it takes to win."
Brannigan said the depth of his team continues to be a strength. He said he plays his 18 to 22 players every day because each of them has earned the opportunity to impact the game and see time on the field.
The Whalers will now have some time to rest before their next game, which is currently scheduled for Tuesday, September 26 at 4 p.m. against Nauset on the island.
Field Hockey Ties Dighton-Rehoboth 0-0
The Whaler field hockey team was hoping for a similar result in Thursday's game to the match on September 7 against Dighton-Rehoboth on Nantucket, which was won by the Whalers 2-0. Unfortunately for Nantucket Thursday's result wasn't another win, but it also wasn't a loss. They played a gritty game and earned a 0-0 tie. Whaler head coach Dan Weber said he felt his team showed plenty of effort and fight in the game despite not scoring any goals.
"The intensity and effort was certainly there we were just lacking execution a little bit (on Thursday)" he said. "Passes weren't connecting as crisply. Our defense and how we were attacking the ball wasn't great. Those were the two things; we weren't connecting as many passes as usual and we played a little too much defense from behind today."
Weber said while the defense could have been better in certain areas, he still felt like junior captain Mayson Lower, senior Aubrey Connors, and sophomores Sophia Yelverton and Marin Mooney played well overall in the back end – helping the team keep Dighton-Rehoboth off the scoreboard.
The Whalers are 2-2-1 this season, and Weber feels like his team is in a good place.
"I think we have played well early on here," he said. "Even the Monomoy game (6-1 loss) I didn't think the score line was indicative of the game itself. We have been in every game we have played so far and gotten on the right side of a couple of them to start against some good teams. I think the girls know if they just go out there and play their game, they know with the talent level we have they can beat anybody any given day. I don't think the first five games have changed that belief. I think it has solidified it if anything. We have just said don't worry about anyone else. Control the things that you can control."
Nantucket is scheduled to play Falmouth on Saturday, September 23 at 11:30 a.m., however that game could be postponed due to poor weather. The next game on the Whaler's schedule is Tuesday, September 26 at 3:45 p.m. when the Whalers welcome St. John Paul II to the island for a late afternoon matchup.
Golf Improves To 4-2 With Win Over Sturgis East
The Whaler golf team improved to 4-2 this season following a 253-315 victory over the Sturgis East Storm on the road Thursday afternoon.
Senior Henry Kathawala had a fantastic afternoon shooting a 36. Senior Braden Knapp was right behind him and shot a 38. Senior Paddy Carroll placed third and shot a 39.

Other Whaler scores included Cole Chambers (46), Michael Culkins (47, Colby O'Keefe (47), and David Boulter (53).
Nantucket will attempt to improve their record to 5-2 on Friday, September 22 when they welcome the Falmouth Clippers to the island for a 3:45 p.m. match at the Miacomet Golf Course.
Volleyball Loses 3-0 To Barnstable
The Whaler volleyball team went on the road to face the Barnstable Red Hawks Wednesday afternoon. Barnstable is one of the state's top programs and while Nantucket lost the match 3-0, they played Barnstable tougher and tougher by the set.
The sets played out as followed:

Set One: 10-25 Barnstable
Set Two: 15-25 Barnstable
Set Three: 17-25 Barnstable
Barnstable improved to 5-1 on the season while the Whalers dropped to 5-2 on the year.
Nantucket's senior captain Chloe Marrero led the team with six kills while junior Rhianna Cranston was right behind her with four. Cranston, as well as senior Yahely Del Rosario Gomez, both finished with two aces. Marrero, junior Leah Crowley, and senior Alice O'Banion each had two blocks. Gomez led the team with nine assists.
Nantucket will look to get back in the win column and continue what has been an overall successful start to their season on Wednesday, September 27 when they travel to Dennis-Yarmouth to take on the Dolphins at 3:30 p.m.
Girls Soccer Drops Home Match To St. John Paul II
The Whaler girls soccer team played the St. John Paul II Lions tough for a good portion of Thursday's home game, but some late goals by the Lions gave SJP a convincing 7-1 win over a Nantucket team missing star striker and junior captain Adney Brannigan as well as senior captain Claire Misurelli.
The Whalers allowed a goal seven minutes into the game, but just two minutes later sophomore captain Chelsea Gross had an opportunity in the Lions' end to score the equalizer on a penalty kick. Gross, per usual, made the most of the opportunity with a beautiful shot to the top right corner of the net to tie the game 1-1 nine minutes in.
But from there, not much went right for Nantucket. They played SJP tough for the remainder of the first half and only trailed 3-1 after 40 minutes. However, SJP scored three quick goals within three minutes of each other in the second half at the 34, 33, and 31 minute marks of the match to take a 6-1 lead early on in the second stanza. The Lions would eventually add one more goal late in the final minutes.
The Whalers are now 3-3 this season and their next game is scheduled for Tuesday, September 26 on the road against the Nauset Warriors at 4 p.m.
SCHEDULE AHEAD:

Friday, September 22:
The Whaler golf team will host the Falmouth Clippers at 3:45 p.m.
Saturday, September 23:
The Whaler field hockey team will host the Falmouth Clippers are 11:30 a.m.
Sunday, September 24:

The Whaler football team will travel to Sandwich to take on the Blue Knights at 4 p.m.
For more sports content, follow our Current Sports Instagram page here. More photos from Thursday's girls soccer game - taken by Current photographer Chris Tran - are below.
Current Sports