Whalers Fall Short Of Comeback Bid Against Auburn/Millbury In Jeff Hayes Tournament
David Creed •
The Whalers faced a tough test Monday night in round one of the Jeff Hayes Memorial Hockey Tournament. They faced the Auburn/Millbury Rockets, who were 11-6 coming into the game and have a firm spot in the Div. 2 state tournament picture.
The Rockets won the game 4-3 but Nantucket's boys hockey squad gave them everything they could handle, especially in the final period where Nantucket has thrived all season long.
"We told them (during the second intermission) look guys you need to put everything aside and you have 15 minutes to make up for this," head coach Jack Moran said. "They played hard and gave it everything they possibly could. Auburn was playing physical and they were able to stand up to our physicality. If we had only had a couple of things bounce our way, it could have been different."
The first period was all Rockets. They outshot the Whalers 8-2, but Nantucket goalie Griffin Starr stood tall and kept it a scoreless game after one period. Each team had one power play and the penalty killing was solid. But with 35.4 seconds left in the first, the Whalers were sent to the box for the second time in the period.
After killing the first 35 seconds of that penalty before the first period ended, Nantucket still had 1:25 of shorthanded time to take care of to begin the second period before they were in the clear and able to return to five on five play. The Rockets took advantage of their power play 36 seconds into the second when senior captain and defenseman Tommy Lutz scored off an assist from sophomore forward Landon Connor to give the Rockets a 1-0 lead.
Then Nantucket began to get into more penalty trouble. They were called for another penalty with 13:12 to go in the period and then another just 54 seconds into that power play, putting the Rockets on a 5-on-3 man advantage for over a minute.
Auburn/MIllbury took advantage 17 seconds into it. This time it was Zachary Deluca, a sophomore defenseman, off an assist from junior defenseman Braeden Rich to make it a 2-0 game with 12 minutes left in the second.
"I get upset because of stupid penalties," Moran said. "That is the only thing I will get upset about - when they take stupid penalties and they don't need to. Aside from that they played well and hopefully they bring that same game to the rink (Tuesday)."
With Nantucket still on the penalty kill, the Whalers needed a spark and they got it from a usual source.
Junior center Ryan Davis took a puck and entered the offensive zone with space. He beat a Rocket defenseman with his speed and an inside move to position himself in front of the net before slipping the puck past freshman goalie Ethan Laplante while being pushed to the ice with a defender on his back to cut the lead to 2-1 with his 15th goal of the season.
The game wasn't at even strength long with the Rockets getting another power play with 8:18 to go. 45 seconds into that Rocket power play, Nantucket drew a penalty making play 4-on-4 before the Whalers would get a short 45 second power play of their own.
Nantucket was unable to score on that man advantage and then with just over four minutes to go in the middle period, it was Rocket's senior captain and top defenseman Nolan White who ripped a blast from the point that made it through the traffic in front of Starr to put Nantucket in a 3-1 hole.
The Whalers got a power play with 3:27 left in the period, but the Rockets killed it off. The teams went into the second intermission with the score remaining 3-1.
Nantucket, who was already shorthanded entering the game with top defenseman Michael Culkins, freshman wing and power forward Jeremy Jenkinson, and up and coming freshman winger Ben Freeman all out with injury, faced a much taller task after junior center Colby O'Keefe was tossed from the game following an interaction with a referee. It shortened Nantucket's bench even more as they attempted to complete a comeback against a very formidable opponent.
But just 54 seconds into the final period, Nantucket got another power play. Then, just 32 seconds into the opportunity it was Canton Jenkinson, the freshman sniper who did the dirty work to put himself in position to bury a loose puck in front of Laplante to make it a 3-2 score with 13:34 to go in the game.
Minutes later, the Rockets answered to make it 4-2. Then with 8:57 left in the game Nantucket got another man advantage.
The Whalers were unable to score on the opportunity but the Rockets got an odd man rush with one of their players coming out of the box. It created a 2-on-1 rush up ice that led to an excellent shot but an even better save by Starr to keep the Rocket's lead at two. It was easily Starr's best save on a night where he recorded 20 of them.
The save gave Nantucket some momentum and it was senior captain Jack Billings scoring on a power play with four minutes left in the game to make it a 4-3 game. The Whalers dominated the third period in many ways, whether it be with their speed or physical style of play. They outshot the Rockets 15-8 in the period.
"Jack is always one of the great leaders on the ice," Moran said of his captain. "He always just stays calm. He has a good head on his shoulders and doesn't lose his cool. He blocked a couple of big shots tonight and one of them I'll tell you hurt him. But when I asked him he said 'no coach I'm good.' It is amazing what he can do. When he is on the ice, he gives us that sense of calm and he is going to do the right thing. He is good for the other guys too and keeps them calm as well. He is a very good leader."
But ultimately the Rocket's defense and willingness to get in front of shots was too much for Nantucket to overcome. Their shot blocking was excellent all night and the win was the result of a gutsy performance The Whalers had a number of high-quality scoring chances with the puck sitting on the goal line in those final few minutes of the game, but quick thinking and heads up plays by the Rocket's defense ended any danger they were in as Nantucket frantically tried to tie the game.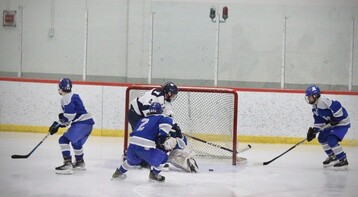 Laplante finished the game with 23 saves. The Whalers made the Rockets play to the final horn to win the game and unfortunately for Nantucket, Auburn/Millbury was up to the task and held on to advance to the Jeff Hayes Memorial Tournament's championship game.
Moran said that freshman Andrew Lavin impressed him, his coaches, and his teammates with his ability to step up and provide Nantucket with some much needed depth as they work to get healthy with state tournament play on the horizon.
"Because we are down the guys that we are we had to bring Andrew up and in a really big role today," Moran said. "He was on the starting line, had a couple of shots, and did exactly what he needed to do. It would have been the icing on the cake if he could have popped in that one goal for us. He was really angry he didn't get it in there but he did a really great job. Everything that he possibly could have done in the role he was put out there for, he couldn't have had a better game."
After the Sandwich Blue Knights defeated the North Reading Hornets Monday night 6-0, Nantucket will be right back in action on Tuesday, February 21 at the Gallo Arena again to take on North Reading in a consolation matchup.
Current Sports