Wendy Schmidt Wins World's Largest Sailing Race, Becomes First Woman Ever To Do So
David Creed •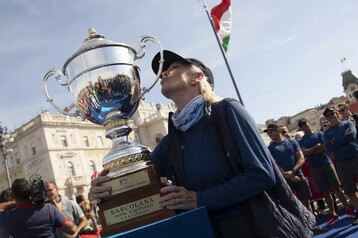 Wendy Schmidt, the Founder of ReMain Nantucket, won the Barcolana54 on Sunday, becoming the first woman and the first American to ever win the regatta. Schmidt was the skipper (i.e. helmswoman) of the boat Deep Blue, which she owns. This race is the world's largest sailing race and in its 54th year.
The race takes place in the Gulf of Trieste, which is a very shallow bay of the Adriatic Sea in Europe. The race is a total of 13 nautical miles. Schmidt's boat had a team of 25 people as they triumphed over the other 1,614 boats who were participating. You can see her boat cross the finish line by clicking here and going to the 1:00:00 mark of the video.
Schmidt also conducted a post-race interview that is voiced over by a translator, but you can see Schmidt accept the trophy by clicking here.
Schmidt is the wife of former Google CEO Eric Schmidt. She is a philanthropist and investor who has had a very positive impact on the island through ReMain Nantucket and her business ventures.
Along with founding ReMain Nantucket, she has also been a lead catalyst behind the renovations of several downtown properties such as Mitchell's Book Corner, Greenhound, 56 Center Street (home to the Community Music Center and Nantucket Community School), 22 Federal (home to The Corner Table and the Nantucket Culinary Center), the Dreamland Theater amongst others.
You can learn more about the race by clicking here.
Current Sports